Boston Magazine
Best Tailor 2016. Even your most treasured designer duds are safe in the hands of Lyudmila Sletkova. Trusted by notable Bostonians like Vicki Kennedy to hem sagging slacks and bulky blazers, the Russian-born seam queen has been in business for 20 years. She's even a favorite among trendy retailers like Agent Provocateur.

Boston's Best
The Improper Bostonian
Best Tailor 2012. A shopping trip down Newbury can stock your wardrobe with trendy pieces and classic staples, but a proper spree isn't complete without a visit to Best Fit. Trusted by fashion retailers like Jessica McClintock and Emporio Armani, owner Lyudmila Sletkova's business lives up to the name. With expert hands and incomparable workmanship, she can raise a simple hemline or turn a retro thrift-store buy into an impeccably fitted cocktail dress. No job is too big or too small, and every alteration receives the same attention to detail.

Boston's Best
The Improper Bostonian
Best Tailor 2011. If you're going to name your store Best Fit Inc., you'd better back it up. Fortunately, the folks at this Newbury Street standby aren't bluffing. Whether you're a bride or a businessman, these supremely talented tailors nip and tuck with surgical precision, making sure you look your best in any garment. Owner Lyudmila Sletkova and her team attract some of the city's poshest boutiques, like Intermix and Gretta Luxe.


Boston Magazine
Best Gown Alteration 2008. The elegantly appointed changing areas and owner Lyudmila Sletkova's painstaking workmanship evoke a bygone era. They also ensure that, whether you've gone a touch brideorexic or decided to don Mom's '70s era gown, Sketkova can nip your dress into shape without any skimpy-curtain indecency.


Boston Magazine
Best Tailor 2003. This year, we decided two-time winner Lyudmila Sletkova and her team at Best Fit should be put to the test before capturing the prize once more from the crowded field of tailors in this town. So we challenged her not with the usual trouser hem or waistband nip and tuck, but the transformation of a too-short '60s-era cap-sleeve wedding gown. She turned it into a gorgeous, strapless, lengthened masterpiece. Of course, Sletkova handled the job with aplomb (and at a budget saving price), proving that her talents run the gamut from placing the perfect hem on a pair of jeans to making an outdated dress look like a designer creation. The bottom line? Best Fit lives up to its name.


Boston Magazine
Best Tailor 2002. This elegant walkup is no dingy, dime-a-dozen tailor shop. It's a richly carpeted, sprawling space overlooking Newbury Street through extra-wide windows, with changing booths the size of hotel rooms. And the service? Impeccable and personal, without fail. Owner Lyudmila Sletkova treats her customers like family and sees to it that their clothes from cut-rate to couture-are cut and sewn flawlessly. Little wonder that many of the street's savviest shops send their customers here.


Boston Magazine
Best Tailor 2001. No wonder fashion retailers from DKNY to Intermix use Best Fit. The high quality workmanship that comes out of this elegantly appointed Newbury Street tailor shop is downright untouchable. But much of owner Lyudmila Sletkova's best work is done for consumers who need an experienced hand on complex projects such as taking in a wedding dress, overhauling a crepe suit, or relining linen pants. She can update an old shift dress with new lines, or stitch up a tux lickety split.


In the Spotlight.com
The Best of Citysearch
Best Of Tailor 9.7 2006-07. "They fixed my bridesmaids dress in three days…Definitely worth every penny because they were prompt, there were no hidden costs and they did a great job – the dress fit great!" "Great Place! I was very happy with Best Fit. I needed my wedding dress altered and they did a great job…Very nice service!"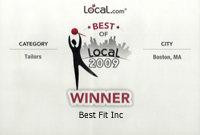 Best of Local
Best Tailors 2009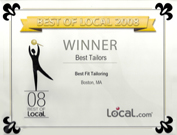 Best of Local
Best Tailors 2008